These notes are brief, noting major events and minor events that will be of consequence later.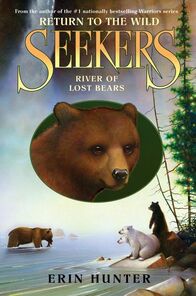 These are intended to be used as a reference for those looking for specific events for re-reading and the likes.
Chapter 1
Lusa's point of view
The Seeker bears have reached land.
Lusa is happy to be in forests again.
Toklo thinks that he recognizes the sound of the river.
The group catch a fish, but Lusa does not eat her share.
Lusa is almost killed by a firebeast.
Chapter 2
Coming Soon
Chapter 3
Coming Soon
Chapter 4
Coming Soon
Chapter 5
Coming Soon
Chapter 6
Coming Soon
Chapter 7
Coming Soon
Chapter 8
Coming Soon
Chapter 9
Coming Soon
Chapter 10
Coming Soon
Chapter 11
Coming Soon
Chapter 12
Coming Soon
Chapter 13
Coming Soon
Chapter 14
Coming Soon
Chapter 15
Coming Soon
Chapter 16
Coming Soon
Chapter 17
Coming Soon
Chapter 18
Coming Soon
Chapter 19
Coming Soon
Chapter 20
Coming Soon
Chapter 21
Coming Soon
Chapter 22
Coming Soon
Chapter 23
Coming Soon
Chapter 24
Coming Soon