Template:Infobox Snowy owls are a species of owl. They are white and black, and live in colder climates.
The female is larger than the male, with more black barring. They are found in North America, the Arctic, Northern Asia, Iceland, Norway, Sweden and Finland. They prey on rodents, lagomorphs and several other small animals.
History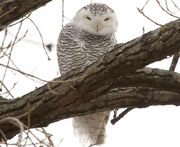 Ujurak transforms into a snowy owl when he leaves the hospital.