This user is currently inactive, and this template has been placed on their page for one or both of the following reasons:

They have placed this on their page themself, knowing they might be inactive for a while.

OR

An admin has noticed they were inactive and has placed this on their page.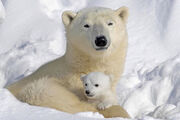 Dear Wikia,
Hi! My name is Daisy, and I love the Seekers series! I LOVE how it relates to bears and their tough lives in the wild. I love ALL the bears (except the mean bears, of course). I do not have a favorite bear or a book of the Seekers. I think they are all GREAT! I would love to help this Wikia!
Some of my FAVORITE THINGS 2 DO ARE:
Adopt Animals (I have adopted an Asian elephant, Winter the Dolphin, Red Panda, A manatee, And a Polar Bear a Black bear,Grizzly bear and,a penguin
Making/Doing Crafts
Drawing
Playing my ipod
Community content is available under
CC-BY-SA
unless otherwise noted.