Hello, I'm Manulik. I'm proud to be Seekers Wiki's Chat Mod. Welcome to my user page. I am pretty good with templates so if you need one made that is relevent to the wiki, just ask. Feel free to leave me a message on my talk page if you need any help.
Manulik
The Kodiak Bear
---
User Page
Talk
Blog
---
About Me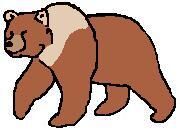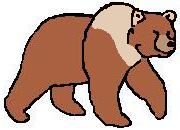 Hi, I'm Manulik! I'm a Kodiak Bear! I'm 6 Moons old! (That's kinda like half a year in no-snout years). I live near the top of Bear Snout Mountain in a cave with my mother, Elenik, my father, Grandik, and my brother, Nikiluk. My best friend is Toklo. We met when I was 2 moons old. We played every day. When I was 3 moons old, Toklo left and I never saw him again. One day I want to have territory to my own! I'll protect it and only my family could come near it! But that's only a dream right now. It'll happen, one day.

To learn more about Manulik, please check out his books.
For more information, check out Manulik Wiki
Important Links
Signatures
Past
Manulik The Kodiak Bear
Present
Manulik The Kodiak Bear - Warrior and Seeker Forever
Favorite Quotes
"What about you? You didn't even think twice about following those two. They say, 'Let's go onto the ice' and right away you say, 'Where do I put my paws?' If you ask me, you're the brave one."
— Toklo to Lusa in Fire in the Sky
Userboxes
| | |
| --- | --- |
| | This user likes Lusa |
| | |
| --- | --- |
| | This user likes Oka |
| | |
| --- | --- |
| | This user likes Tobi |
| | |
| --- | --- |
| | This user likes King |
| | |
| --- | --- |
| | This user likes Yogi |
| | |
| --- | --- |
| | This user likes Nisa |
| | |
| --- | --- |
| | This user is cheerful like Lusa |
| | |
| --- | --- |
| | This user is patient like Kallik |
| | |
| --- | --- |
| | This user is caring like Nisa |
| | |
| --- | --- |
| | This user's favorite animal is the bear |
| | |
| --- | --- |
| | This user's favorite bear is the Kodiak Bear |
| | |
| --- | --- |
| | This is Manulik's Example Template |
| | |
| --- | --- |
| | This user has blue eyes. |