Hi, My name is Midnight Snowbut you can call me Midnight.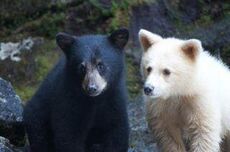 Thank you for viewing my proflie. I written a fan fic about Tikaani and Toklo on Seekers Share Wiki . Please read it if you have the time to :)
About Me
Hi, My name is Midnight Snow. I'm Kermode Bear! I'm 3 and a half full moons old! (That's 7 moons). 
I live near the Great Lake of Bear Gatherings with my sisters, Bella  and my mother, Anernerk.
My father, Kaskae, left my family 2 weeks after I was born to go with his tribe mates and never return, my brother Keskuk died of starvation and my elder sister left to go with her partner.
My best friend is Lusa. My family met her when I was 2 1/4 full moons old. We played every day and she stayed with us. When I was 2 3/4 full moons old, Lusa left and I haven't seen her since. She told me I will see her again though. 
Interesting Fact about Kermode Bears
According to National Geographic, The Kermode bear is a variation of the American Black Bear but White!
My Favourite pages
User Boxes :)
| | |
| --- | --- |
| | This user counts themselves best friend of Mistey, Manulik and Sorrelflower |
Community content is available under
CC-BY-SA
unless otherwise noted.